La storia di Microsoft Office comincia con un personaggio chiave ben identificabile: l'ingegnere ungherese Charles Simonyi a cui abbiamo già dedicato un articolo specifico.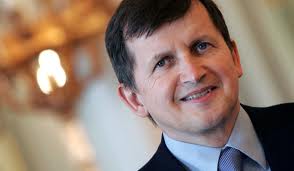 Charles Simonyi
Simonyi, dopo un inteso lavoro allo Xerox PARC, presso il quale sviluppa Bravo e BravoX, si convince che Xerox non avrebbe mai trasformato i risultati del PARC in prodotti di massa e chiede al suo collega Robert Metcalfe di indicargli le figure più promettenti dell'emergente industria dei personal computer, in cima alla quale c'è il giovanissimo Bill Gates che decide di contattare direttamente per descrivergli la propria ambizione di realizzare una serie di applicazioni sullo stile di Bravo e VisiCalc.
Nonostante Microsoft, fino ad allora, abbia realizzato esclusivamente (o quasi) sistemi operativi e linguaggi di programmazione, guarda già oltre e lo stesso Gates, nel 1981, inviata Simonyi a spostarsi a Seattle per creare un gruppo di ricerca dedicato: nasce così la divisione "Application Software Group". La vision di Microsoft è subito chiara:
"We set out to do a suite of apps and we knew what those applications would be. We didn't know about PowerPoint, but certainly the anchors were spreadsheet and editor, business graphics, database, chart, file and that was pretty much it"
[Decidemmo di realizzare una suite di applicazioni e avevamo le idee chiare su cosa dovevano fare. Certamente non pensavamo a PowerPoint, ma volevamo un foglio di calcolo ed un editor, un database e strumenti di analisi aziendale]
e ancora:
"We wanted to have a common user interface – this was before Windows. We were very much aware of the visual UI more than practically anyone and we were biding our time for the hardware to catch up to the software possibility. We bought a Xerox Star so everybody at the organisation could understand the direction we were going in"
[Volevamo una user interface comune per le varie applicazioni - ma Windows era ancora al di là da venire. Eravamo consapevoli dell'importanza della UI ed attendevamo l'hardware giusto per raggiungere i nostri obiettivi. Così comprammo uno Xerox Star in modo che ognuno nella società potesse capire la direzione che stavamo prendendo]
Il capo della nuova divisione introduce in Microsoft le tecniche della programmazione orientata agli oggetti apprese in Xerox, sviluppando la notazione ungherese in cui il nome della variabile contiene un prefisso che fornisce informazioni utili ad identificarne il tipo (ad esempio nSize: numero intero oppure bBusy: booleano). Questa notazione verrà presto abbandonata per la difficoltà di lettura del codice risultante, soprattutto quando il programma è composto da migliaia di righe di codice, anche se Simonyi ne rimarrà particolarmente orgoglioso ammettendo di usarla ancora oggi.
Nel giro di un biennio nascono Multiplan (1982, lo stesso anno in cui Simonyi diventa cittadino statunitense) e [MultiTools for] Word (1983), le cui UI, però, sono tutt'altro che omogenee. Multiplan viene reso disponibile in edizioni per diversi sistemi operative: dall'MS/PC-DOS al Mac, passando per il CP/M, Xenix, Commodore 64 e altri. (MultiTools for) Word invece viene sviluppato per Xenix e poi portato, sempre nel 1983, su MS/PC-DOS.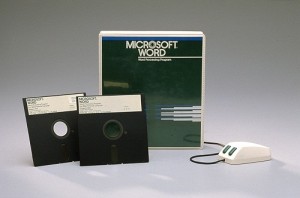 Microsoft Word 1.0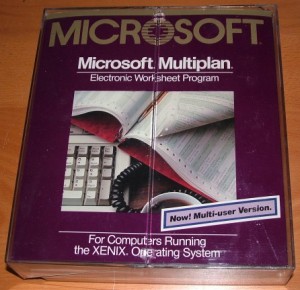 Microsoft Multiplan per Xenix
Ma Windows è alle porte e lo è, ancor prima, il Mac su cui, nella seconda metà del 1985, debuttano il nuovo Excel e la specifica versione di Word.
Le prime versioni per Windows arriveranno solo nel 1987 con Excel per Windows (in realtà più simile a Multiplan che ad Excel per Mac) e nel 1989 con Word per Windows, completamente riscritto.