Una delle domande più comuni che viene da porsi è "Perché la prima versione dell'Apple DOS è la 3.1 e non la 1.0?"
La risposta viene da un post del sito ufficiale di Paul Laughton, che rispone al quesito:
"Every time I recompiled the code, I incremented a revision counter. The counter started at Rev 0.1. Whenever I got to (n).9, I would roll the counter over to (n+1).0. The first listing I gave Apple was Rev 2.8. They (I forget who) decided they could not call it DOS 2.8, so they changed it to DOS 3.0. Apple did the beta testing with this version (2.8 renamed 3.0). When Apple shipped the DOS for review, they incremented it to 3.1 to indicate that the code had changed from the beta version. As a final note, when I transferred the source code to Apple in October, 1978 the Rev number was up to 6.3."
Dal post si evidenzia anche che la versione DOS 3.0 non venne mai rilasciata, ma resta una beta release contenente diversi bug di cui effettuare il fix. Ciò porta, effettivamente, la versione DOS 3.1 ad essere la prima release ufficiale, rilasciata da Apple insieme al Disk Drive II.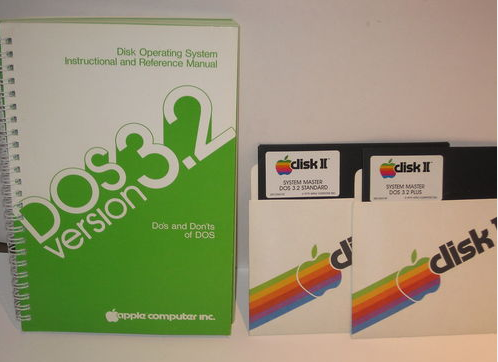 Le versioni ufficiali di Apple DOS sono le seguenti:
DOS 3.0 – giungo 1978

DOS 3.1 – luglio 1978
DOS 3.2 – febbraio 1979
DOS 3.2.1 – agosto 1979
DOS 3.3 – August 1980
DOS 3.0 – 3.2.1 – (supporto ai dischi con 13 settori) luglio 1978 – agosto 1980
DOS 3.3 (supporto ai dischi con 16 settori) – agosto 1980
In aggiunta all'insolito numero di versione, il DOS 3.1 non dispone di una documentazione ufficiale, ma solo di pochi documenti slegati e mal realizzati. A tal proposito è lo stesso presidente Mike Markulla che al momento del lancio (1978) scrive ai propri dipendenti per evidenziare il problema:
"I bought an Apple with floppy and nobody, I mean nobody, in L.A. or San Diego knows how to use the [thing] for random access files. I really feel 'ripped off.' Everybody talks about this great manual in the sky that is coming out soon??? ...! I need this computer now in my business not next year. I hope your dog dies"

Il primo vero manuale per l'Apple DOS arriva solo con la versione 3.2, a febbraio del 1979, contraddistinto dal nome:
"Disk II Floppy Disk Subsystem Installation and Operating Manual - Apple Intelligent Subsystems (part #030-0011-00)"

Si tratta di 38 pagine, con errori e typo, che spiega solo i rudimenti dei principali comandi, come READ e WRITE.