Delphi nasce dall'esigenza di Borland di trasformare il Pascal in un linguaggio Object Oriented, moderno e che abbracciasse l'astro nascente di Windows. Anders Hejlsberg, nel 1993 inizia così il lavoro sul nuovo Object Pascal (partendo dallo specifico Draft Apple sull'argomento), che presto divinerà ufficialmente Delphi. Il tecnico danese assume il ruolo di Chief Architect del nuovo progetto insieme a Chuck Jazdzewsk­.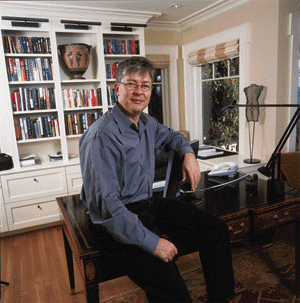 Anders Hejlsberg
Il nuovo ambiente viene ufficialmente rilasciato il 14 Febbraio del 1995, e introduce l'utilizzo di una sintassi Pascal-like con connotazione ad oggetti: classi costruttori/distruttori, proprietà, metodi, ecc… diventano di uso comune per gli sviluppatori fedeli a Borland.
Oltre alla nuova filosofia Object Oriented, Delphi si pone come strumento di sviluppo cooperativo, superando l'idea che lo sviluppo del software potesse essere affidato ad un'unica persona, così come affermato dallo stesso Hejlsberg:
"Back in the old Turbo Pascal days, it was possible for one person to write and maintain an entire product. This is no longer the case. Delphi was built by a team."
[A tempi del Turbo Pascal era possibile per una persona scrivere e manutenere un intero prodotto. Ora non è più così. Delphi stesso è stato realizzato da un Team]
Anche se l'estensione di Borland viene chiamata Object Pascal, è doveroso evidenziare che con lo stesso termine si indica anche un'estensione realizzata da Larry Tesler (in Apple per il Lisa, conosciuto anche come Clascal) in congiunzione con lo Niklaus Wirth.