DESQview è un gestore multitasking, per il sistema operativo DOS, in grado di eseguire concorrentemente più applicazioni. L'applicazione veniva prodotta nella seconda metà degli anni '80 dalla Quarterdeck e già dal nome si evidenzia una caratteristica molto significativa: la piena compatibilità con TopView di IBM.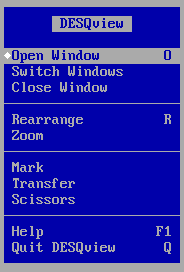 Menu principale di DESQview
Infatti il nome originale era DESQ (con la "Q" di Quarterdeck), ma viene aggiunto il suffisso "view" proprio ad evidenziare la compatibilità con le API di sviluppo del prodotto di BigBlue. Ciò consente alle applicazioni topview-aware di trasformarsi in desqview-aware e quindi sfruttare una "virtual video memory" che permette la loro esecuzione in finestre e non nella sola modalità full screen, anche se nella maggior parte dei casi DESQview riesce a fare lo stesso anche con le applicazioni "compatibile" in modo molto più marcato di quanto non riesca TopView.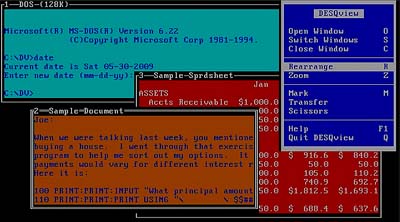 DESQview
La prima versione di DESQview viene rilasciata a luglio del 1985, pochi mesi prima del lancio commerciale di Windows 1.01, e grazie ad una serie di menu a scomparsa consente di effettuare il "copia e incolla" di dati tra i vari programmi e attivare le creare delle macro per operazioni cross-application. Lo stesso ambiente, inoltre, offre alcune applicazioni "interne" come un semplice notepad e altri tool di utilizzo generico.
Nonostante sia in grado di funzionare su configurazioni i286-based (con almeno 2Mb di RAM), DESQview riesce comunque a dare il meglio con le macchine i386 in grado di sfruttare meglio la memoria oltre i primi 640Kb. Grosso limite dell'ambiente è il suo funzionamento unicamente in Real Mode, piuttosto che in Protected Mode, non consentendo così la separazione della memoria dei processi (programmi) in esecuzione e causando il crash dell'intero sistema nel caso uno solo di essi vada in errore.
Nonostante questa "pecca" implementativa, DESQview si dimostra particolarmente valido e trova i maggiori sostenitori tra i sistemi BBS (bulletin board systems) multiuser grazie alle modeste richieste hardware e la gestione particolarmente efficiente delle porte di comunicazione (COM).
Infatti Quarterdeck punta tutto sull'ottimizzazione estrema dell'utilizzo della memoria, tanto da realizzare nel 1987 QEMM-386 (Quarterdeck Extended Memory Manager 386), un proprio memory manager per gestire il più efficientemente possibile la memoria estesa (compresa tra i primi 640kb ed il primo Mb) e la memoria espansa (oltre il primo mega). QEMM-386, paradossalmente, supera in popolarità DESQview imponendosi come leder di mercato nel relativo settore e dalla loro unione nasce DESQview 386.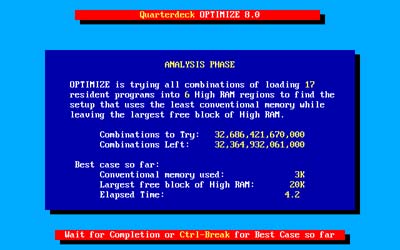 Una delle fasi del processo di ottimizzazione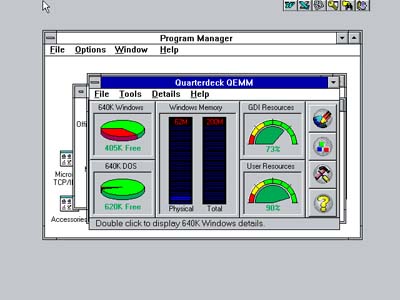 I widget di QEMM per Windows
Nel giro di alcuni anni il confronto con Windows di Microsoft, che con la versione 2 (286 e 386) supera i limiti della prima release potenziando le API per la realizzazione di nuove in grado di sfruttare in modo trasparente le varie tipologie di memoria, e il nuovo OS/2 di IBM/Microsoft diventa sempre più stringente, spingendo Quarterdeck a mette in cantiere DESQview/X, una versione di DESQview con integranti ben tre windows manager X Windows Based (inizialmente pensato per dotare di una GUI per sistemi di rete e poi diventato la base delle GUI di Linux), ovvero: X/Motif, OPEN LOOK, e twm. La scelta di Quarterdeck era guidata dall'opportunità di portare su PC i software sviluppati per X Windows (all'epoca per Unix, visto che Linux era meno che un embrione).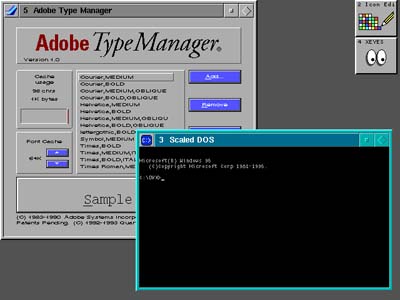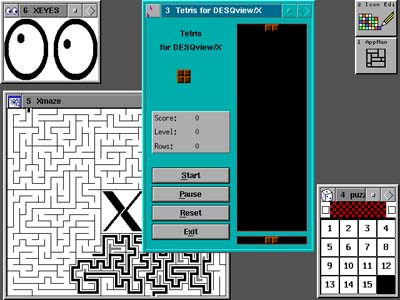 DESQview/X
Il 31 Marzo del 1992, Quarterdeck annuncia la disponibilità commerciale di DESQview/X. Il nuovo ambiente richiede un sistema i386sx e rappresenta la terza release della suite multitasking (con QEMM) della società, comprendente:
DESQview/X Application Manager, un ambiente grafico con cui gestire le proprie applicazioni;
DESQview/X File Manager, un file manager per la gestione dei file locali e remoti;
DESQview/X Icon Editor, un tool per la creazione di icone;
Adobe Type Manager (ATM) for DESQview/X, un font manager con "ben" 13 font di tipo "Type 1" in grado di rendere scalabile anche la visualizzazione delle applicazioni DOS in funzione all'interno di finestre.
Per annunciare il lancio commerciale, Quarterdeck rilascia il seguente comunicato ufficiale:
QUARTERDECK SHIPS DESQVIEW/X, BRINGS WORKSTATION POWER TO DOS
Includes X Window System Graphics, Adobe Type Manager,
Remote Computing of DOS and Microsoft Windows via Novell
and NetBIOS Networks, TCP/IP Option
WASHINGTON, March 31 /PRNewswire/ -- Quarterdeck Office Systems Inc. (NASDAQ: QDEK) announced today at the Federal Office Systems Expo (FOSE) that DESQview/X is shipping. DESQview/X brings powerful workstation capabilities to standalone and networked 386 SX and higher DOS personal computers. DESQview/X, the third DESQview product in Quarterdeck's suite of multitaskers, is a graphical, multitasking and windowing DOS environment. It features a graphical desktop, scalable fonts, keystroke macros and customizable menus, data transfer and remote computing. A key feature of DESQview/X is its ability to run both DOS test and Microsoft Windows graphics programs in small windows or remotely on other DESQview/X PCs or X workstations.
DESQview/X is the first full DOS client/server implementation of the X-Window System, an international standard for graphical windowing and distributed computing. Adding to DESQview's ability to multitask DOS and Microsoft Windows programs, DESQview/X incorporates X Window System graphics and network protocols, plus Rational Systems' 16- and 32-bit shared DOS extender technology to achieve workstation capabilities and performance.
"We are taking our DESQview foundation and adding accepted standards for type, graphics and distributed computing," said Therese E. Myers, president and co-founder of Quarterdeck. "This creates an open door for DOS users and gives them the ability to take advantage of the advances in X-related workstation trends regardless of platform. This is a significant step toward bringing DOS into enterprise computing."
DESQview/X provides benefits for both standalone and networked PC users such as: data transfer to cut and paste between applications running in different windows regardless of whether they are running locally or remotely, a graphical interface with three-dimensional look and feel, menus and icons that are easily customizable and sophisticated file and print management systems.
Included with DESQview/X are four companion programs:
-- DESQview/X Application Manager, a graphical desktop and program organizer;
-- DESQview/X File Manager, a file manager for either local DOS or remote DOS and non-DOS files;
-- DESQview/X Icon Editor, a graphics tool for creating and editing pixmap and bitmap icons; and,
-- Adobe Type Manager (ATM) for DESQview/X, an outline font manager with 13 Type 1 fonts for DESQview/X and X Window System graphics programs. ATM for DESQview/X also provides scalable DOS windows for DOS text programs.
"We started our DESQview/X development with a belief in the importance of networking and graphics," said Gary Pope, executive vice president, development and Quarterdeck co-founder. "We also wanted our DOS users to be able to access computing power, memory or applications residing on more powerful computers on a network."
According to Pope, until now DOS lacked an integrated windowing system designed for graphic communication. By bringing the X-Window System to DOS, users gain network access to the universe of X software running on UNIX, VAX workstations or mainframes.
Bundled with DESQview/X are Quarterdeck's best-selling memory manager QEMM-386, and Manifest, a system and memory reporting tool. Options for DESQview/X, available separately, include the DESQview/X Network Manager for TCP/IP; and DESQview/X OPEN LOOK Window Manager and the DESQview/X OSF/Motif Window Manager, both used for customizing the on-screen interface to match the look of other workstations, from Sun, Hewlett-Packard, DEC, IBM and others.
DESQview/X (with the four companions, QEMM-386, Manifest and the DESQview/X Network Manager for Novell Netware and NetBIOS networks) has a suggested retail price of $275. The suggested retail price for the optional DESQview/X Network Manager for TCP/IP is $200; DESQview/X OSF/Motif Window Manager is $250; and DESQview/X OPEN LOOK Window Manager is $200. For registered Quarterdeck users, there is a special introductory offer of DESQview/X for $100.
System requirements for DESQview/X are: an IBM/compatible 386SX PC or higher; PC or MS DOS 3 and above or DR DOS 6; 4 megabytes or more of RAM; EGA, VGA, Super VGA 8514/A or 256-color DGIS graphics adapter, and a 40 megabyte hard drive. Support for a mouse or equivalent pointing device compatible with Microsoft mouse driver is included: DESQview/X- 286 for IBM/compatible 286 computers is under development.
Quarterdeck is a technology leader in the development of software products that enhance the performance of DOS-based personal computer hardware and software. The company develops, markets and supports multitasking, windowing and memory management software designed to bring cost-effective computing solutions to business and professional PC users.
Quarterdeck Office Systems Inc. is lcoated at 150 Pico Blvd., Santa Monica, CA 90405. The company can be reached at 310-392-9851.
-0- 3/31/92
Ma il rilascio di Windows 3.0, avvenuto ben 2 anni prima, e il contemporaneo rilascio di Windows 3.11 (18 marzo 1992), mette praticamente la parola fine alla guerre delle UI per ambienti DOS e porta Quarterdeck a mettere in secondo piano lo sviluppo di DESQview per a concentrarsi unicamente su QEMM che ha ancora un suo perché in ambito DOS/Windows.
Ma anche per il memory manager le cose si complicano, soprattutto con il rilascio delle versioni 6 del DOS targato Microsoft e di quello targato IBM, che includono un proprio memory manager e memory optimizer in bundle (Memmaker e RamBost), unitamente alla parziale incompatibilità di Windows 3.1 con la varie versioni 7.x.
Quarterdeck allora rilascia QEMM 8, che con il rilascio del processore Pentium perde il suffisso 386, per superare tali problematiche ed introdurre nuove feauture che lo facciano emergere rispetto alle soluzioni in bundle dei concorrenti e, dopo l'uscita di Windows 95, presenta QEMM 9.0/97, includendo al suo interno anche MagnaRam, un tool per la compressione (deframmentazione) della memoria pensato soprattutto per ridurne la frammentazione.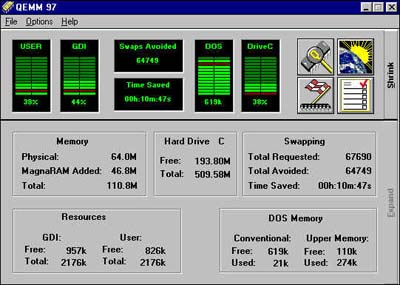 QEMM 97
Con i nuovi sistemi operativi, il mercato è, però, ormai diventato asettico rispetto a questa tipologia di utility e Quarterdeck, dopo aver tentato senza successo di ricollocarsi nel settore internet, viene acquisita da Symantec.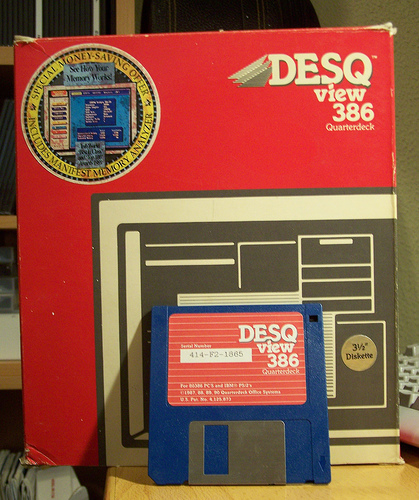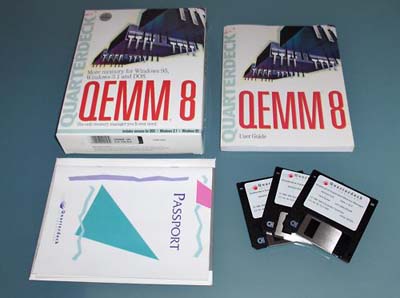 Packages