L'Apple DOS 3.2 viene rilasciato in concomitanza con l'uscita dell'Apple II Plus e dell'introduzione della relativa Autostart ROM che si presenta con il nuovo interprete Applesoft BASIC, con il supporto ai numeri in virgola mobile, e la nuova funzionalità di avvio automatico dell'eventuale disco presente nel Disk Drive se viene identificato il relativo controller.

Schermata di avvio del DOS 3.2
La nuova versione è disponibile a Febbraio del 1979 e contiene diverse modifiche anche se è in gran parte (oltre il 90%) basata sulla precedente release. L'innovazione più interessante è, probabilmente l'aggiunta di quattro nuovi tipi di file: "R", "S", un'altra "A" ed un'altra "B", ma di questi, solo il tipo "R", che indica un codice oggetto ricollocabile generato da un assembler, è realmente usato da BigA.
Da segnalare, inoltre, il nuovo Update 3.2 che sostituisce il disastroso Master Create della versione precedente. Nel Master Disk di questa versione sono presenti una serie di nuovi file, tra cui: COLOR DEMOSOFT (un dimostratore delle possibilità di sfruttare i coloro del sistema), LITTLE BRICK OUT (versione light di un vecchio gioco in Integer Basic) , MAKE TEXT e RETRIEVE TEXT (semplici dimostratori di accesso al disco), RANDOM/APPLE PROMS (utilizzati per dimostrare le funzionalità di accesso random ai file), EXEC DEMO (dimostratore del comando EXEC) e CHAIN (consente il linking tra diversi programmi).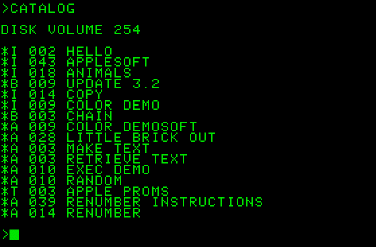 Contenuto System Master Disk Apple DOS 3.2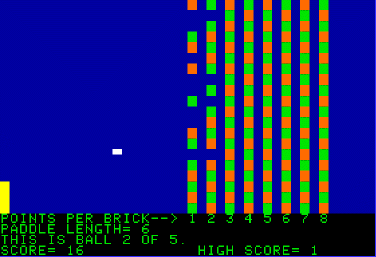 Brick Out
Apple DOS 3.2.1
A luglio del 1979, Apple rilascia il DOS 3.2.1 per correggere alcuni problemi ad RWTS e il bug di sincronizzazione dell'utility COPY che non permetteva di copiare correttamente i dischi.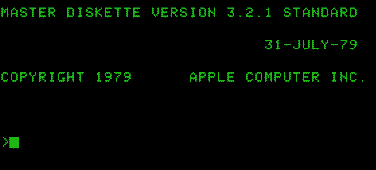 Hello program 3.2.1
Il "vecchio" Udpdate 3.2 viene sostituito da UPDATE 3.2.1 che aggiorna i precedenti floppy con il DOS 3.2 alla nuova versione, oltre che crearne dei nuovi. Inoltre Apple decide di corredare il proprio sistema operativo con una serie di bonus, tra cui giochi e dimostratori: APPLE-TREK, THE INFINITE NO. OF MONKEYS, BRIAN'S THEME e BRICK OUT.
La cosa da notare è che si tratta di uno dei primi software ad introdurre un terzo numero per l'identificazione delle minor/bug fix release.