Tra le curiosità di Windows XP, si annovera sicuramente l'origine del wallpaper "Bliss" (estasi), ovvero la foto della collina ricoperta completamente di verde sotto uno splendido cielo azzurro caratterizzante ogni nuova installazione del sistema operativo che ha unificato la serie 9x con quella NT, a favore di quest'ultima.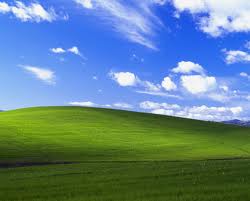 Biss Wallpaper
A svelare come sia avvenuta la scelta della specifica foto è stata la stessa casa di Redmond con un video in cui viene intervistato Charles O'Rear, autore della foto ed ex collaboratore di National Geographics. O'Rear racconta che lo scatto risale al 1998 ed avviene in modo del tutto casuale: infatti si trovava a percorrere la highway 12, partendo da Sonoma Country (California), per raggiungere Martin Country (Florida) dove doveva incontrare quella che poi sarebbe diventata sua moglie.
Come tutti gli abitanti della California sanno bene, le intense piogge di inizio anno portano, in primavera, le colline a ricoprirsi di un colore verde intenso prima di lasciare spazio ai colori marroni tipici dell'estate.
Durante il viaggio, O'Rear si ferma ad ammirare un'area particolare e decide di immortalare una collina caratterizzata da uno splendido verde smeraldo e da un cielo ricoperto da poche nuvole sparse:
"I got out, took a couple of pictures, and kept on going… And the rest is history."
[Sono uscito dalla macchina, ho scattato un paio di foto ed ho continuato il mio viaggio… il resto è storia]
Ma la foto com'è finita in Windows XP? Ebbene la fortuna di O'Rear è quella di aver deciso di usare la piattaforma Corbis per la gestione dei diritti di utilizzo sulle proprie fotografie, società fondata da Bill Gates.
Così, verso la fine del 2000, i responsabili di Redmond, utilizzando a loro volta Corbis, individuano "bliss" anche se sono scettici sull'autenticità della foto, ritenendola troppo perfetta e ritoccata artificialmente:
"I got an email from someone at Microsoft—I suspect it was the engineering department—saying, 'We have a contest going about that photograph. Most of us think it was Photoshopped. Some of us think it was taken out in eastern Washington in the Palouse area. Tell us about it.' I wrote back and said, 'Sorry, it's the real deal. It was all there. The clouds were there, the green grass was there and the blue sky."
["Ricevetti una email da qualcuno in Microsoft - sospetto fosse il reparto di ingegneria –in cui mi dicevano: 'Abbiamo un contest in corso su questa fotografia. La maggior parte di noi pensa, però, che sia stato ritoccata con photoshop. Alcuni di noi pensano che lo scatto è stato effettuato nell'area orientale di Washington, nota come Palouse. Ci faccia sapere'. Ho risposto semplicemente: 'Mi dispiace, ma è tutto vero. Era tutto lì. Le nuvole erano lì, l'erba verde era lì così come l'azzurro del cielo."]
Per fugare definitivamente ogni dubbio, O'Rear viene invitato a presentare personalmente lo scatto originale. Il fotografo dimostra di aver realizzato la foto, con una fotocamera analogica ed immortalato su pellicola Fuji, in un istante perfetto ("bliss", "estasi" appunto) e, probabilmente, irripetibile. L'accordo siglato gli frutta un assegno, a detta dello stesso autore, decisamente interessante, il cui importo non è stata però svelato.
Ad oggi, "bliss" resta lo scatto più famoso di O'Rear e grazie a Mark Hachman, il quale ha individuato il punto esatto dello scatto originale, abbiamo anche la possibilità di vedere come appare oggi l'area fotografata nel 1998, con una "invasiva" presenza di vigneti, fondamentali per la vocazione vitivinicola dell'area.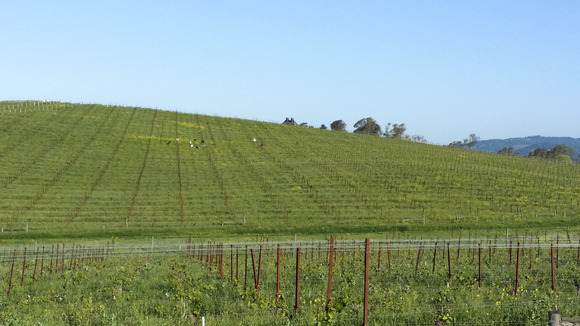 Bliss 2014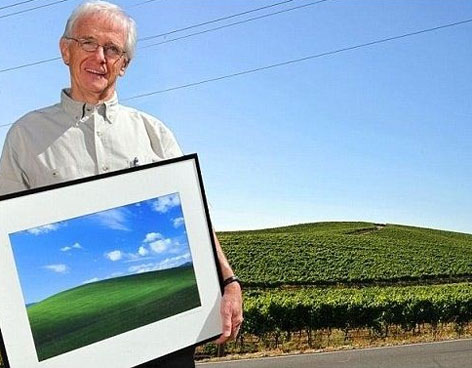 Charles O'Rear immortalato vicino alla "bliss area"